The Little Dancer:
The story behind the statue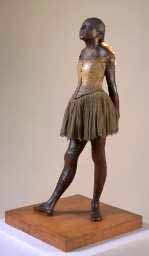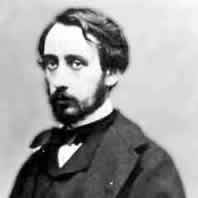 Edgar Degas' Little Dancer is a remarkable statue. In its day, this world-famous work was roundly criticized by the media, by art experts, and by the public. It was considered grotesque in its day--partly because young ballerinas in that time were often street urchins and prostitutes. We know the name of Degas' model for the sculpture, and we know she and her sisters were very poor and kept on the move. We know that the model (Marie) also left the ballet and probably followed her older sister into a life of street walking and crime.
The original statue was (and is) in wax. It was hidden away for about 100 years, but is now on display at the National Gallery in Washington DC. If you've seen it elsewhere, you've seen one of several excellent bronze castings. Degas never sold the sculpture, instead keeping it for himself in his studio. He never permitted a casting to be made. But after his death, his relatives had a foundry make several castings--probably as a money-making endeavor.
Degas never married, and as far as we know, he had no lovers--female or male. He spent much of his life painting pictures of the ballet. He was interested in female dancers only, and often captured them in backstage poses as they adjusted their stockings or straps, as they stretched, or as they just waited around. About half of his entire collection of works comprised paintings and drawings of ballet dancers.
As for the little dancer, her tutu is real cloth. The bodice is also real, but with a wax coating. Her hair is real, although it too is coated with wax. The model's stance is the fourth position in ballet.
Something that's just too, too interesting:
The word "tutu" is a corruption of "coco," French baby talk for "cul-cul," which means "botty-wotty," or bottom. Tutus are made of tulle--a fine, stiffened net of rayon, nylon, or silk.
Let's all take a position on this:
In ballet, there are five positions of the feet. As mentioned, the Little Dancer is posed in position number four. You can see the others, as well as the five hand positions, at this site: 5 positions
Position four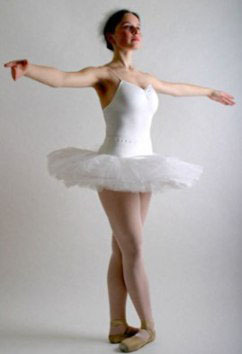 .
Read about this artist (and others): The book listed below is about four impressionist painters--Berthe Morisot, Mary Cassett, Edouard Manet, and of course, Edward Degas.
From Amazon.com: Impressionist Quartet draws us into the inner lives of a core group of mid-nineteenth-century artists . . . known, collectively, as the "Impressionists." They were either marginalized or dismissed altogether by the French art establishment. And, to some degree, their iconic works have eclipsed them.
copyright James Stephens
All rights reserved
More art books and other things from Amazon. Just click this link: