Gallery: Still under construction because I'm lazy.
These two paintings show my photo-realism phase. The first is an acrylic of an old sign in East Atlanta Village. Today, this building is a pizza restaurant, but the sign is still there with a different name and different coat of paint.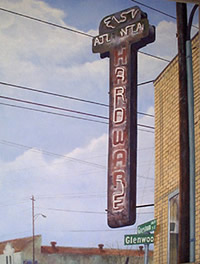 The second painting is an airbrush watercolor. Airbrush work is a tedious mechanical process that involves cutting frisket (a transparent stencil material), spraying some paint, and repeating the process again and again until you scream. Wine helps.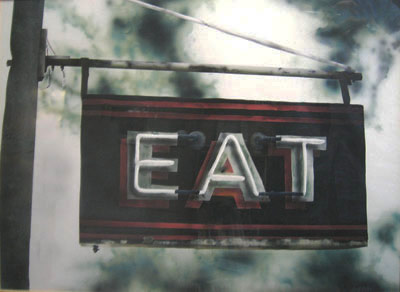 Traditional watercolor with a brush is another animal completely. With watercolor, you can make a mess of your art very quickly, so it's much more efficient than using an airbrush. I always think that it's better to be disappointed right off the bat and just put it behind you.
This little picture (and it really is fairly small) was a plein air piece I did in Harbor Town, South Carolina.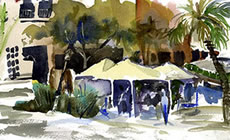 Another quickie, on-the-spot painting, this one a house in Cabbagetown. I hold the watercolor pad in my hand along with a set of pocket watercolors. Passersby are always suspicious when they see me.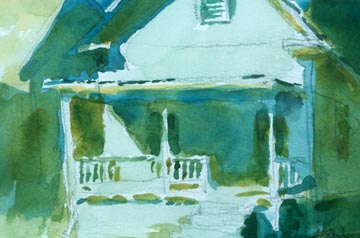 Watercolor is kind of cool because it can be runny and messy, and you can tell people you did it on purpose. Then they nod their heads like they understand. This is a convenience store in Little Five Points.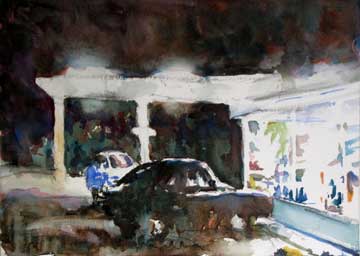 I really miss the following painting because someone came along and bought it. I'm always torn when I have to let one go.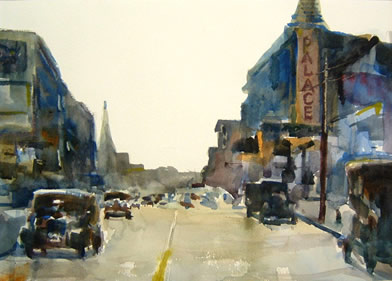 ---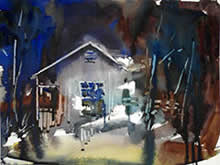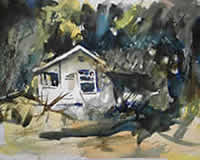 Two versions of the same old shack near Lakewood Heights. I feel very good about these because the building is now gone, as in razed, demolished, torn down, replaced. Get the idea? I'll bet these are the only paintings of this building in existence.
The above statement is not true. I took a picture of it and several people in an art group painted this building. Of course, I'm not showing those because they are better than mine.
This one is called Sunny Side Up. I'm sorry, it's the best name I could come up with.