Movies about art and artists:


Films to entertain, inspire, excite, or bore you
Lust for Life (van Gogh) Kirk Douglas was nominated for an Oscar for his role as Vincent.
Fur A remarkably dull movie about a fictitious event in the life of Diane Arbus. Save your time and money.
The Draughtsman's Contract A draftsman is hired to render the house of a wealthy woman. She pays with sexual favors.
Artists and Models    Dean Martin and Jerry Lewis and Shirley MacLaine and Dorothy Malone in a silly little movie I think you'll enjoy.
Moulin Rouge (The 1952 version) Directed by John Huston and a winner of two Oscars. Jose Ferrer as Toulouse-Lautrec and Zsa Zsa Gabor as Jane Avril.
Crumb Avant-garde comic-book artist Robert Crumb's life is fascinating. You've probably seen his work even if you didn't know it. The artist plays himself.
Pollock Ed Harris as Jackson Pollock.
Art School Confidential You should like this one. A guy pursues his art-school obsession and learns that the art world isn't what he envisioned..
Frida Surrealist artist Frida Kahlo and her affair with muralist Diego Rivera, as played by Salma Hayek and Alfred Molina. Below: the real Frida and a self portrait.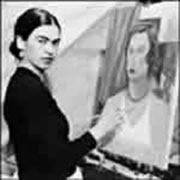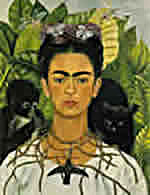 ---
The Agony and the Ecstasy (1965) When Charlton Heston wasn't Moses, he was Michelangelo. When Rex Harrison wasn't Professor Henry Higgins, he was the Pope.
---
Artemisia (Artemisia Gentileschi) She was born in 1593, and was an early Baroque painter. Today, she is considered one of the most accomplished painters in a generation influenced by Caravaggio. That influence is easy to see in this gory example of her work. Did she have a reason to hate men? See the movie and decide for yourself.

In an era when women painters were not easily accepted by the artistic community, she was the first female painter to become a member of the Accademia di Arte del Disegno in Florence. She was also one of the first female artists to paint historical and religious paintings at a time when such heroic themes were considered beyond a woman's reach.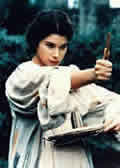 Valentina Cervi in the title role in the film. Be cautioned that this movie contains considerable male and female nudity and strong subject matter. But let's face it--she had a rough time. There are differing opinions about its historical accuracy.
Please go out and rent at least one of these and tell me what you think of it. Start with Art School Confidential.
Or better still, start your own collection by clicking on the link below and buying from Amazon.
copyright James Stephens
All rights reserved
More art books and other things from Amazon. Just click this link: